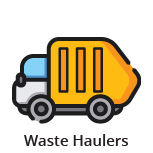 Quality and speed of routing are key success variables for waste haulers. To achieve this, you need high-performance garbage compactors and balers that can handle the demands of your waste management processes with seamless efficiency.
At Compactor Rentals of America, we support waste haulers and their clients with dependable, cost-effective equipment that allows you to worry less about service and maintenance and more about your hauling process. Read on to explore our options for waste haulers and see how CRA can help you serve your clients to the best of your ability.
Waste Management Equipment for Haulers
Waste haulers provide essential services such as the collection, transport, and disposal of waste. These steps are vital to waste management processes, which means waste haulers must prioritize effective and efficient service. Smart routing, fast transport, and expert service are all priorities for waste haulers.
CRA supports these processes with reliable equipment and comprehensive customer support. When you rent garbage compactors for waste haulers through CRA, we handle the responsibility of implementing and maintaining equipment so that you can focus on providing quality hauling services to your clients.
Our quality equipment and comprehensive maintenance program work to minimize system downtime and support productive waste management processes. This allows you to streamline service for more efficient stops and faster hauling processes overall.
Compactor Rentals of America helps you find the ideal equipment solutions for you and your clients. Our recommended garbage compactors and garbage balers for waste haulers include:
Front and rear load compactors
Apartment compactors
Stationary compactors
Self-contained compactors
Pre-crushers
Vertical balers
Horizontal balers
With the right equipment on hand, you and your clients can streamline your waste management processes for better efficiency and productivity every step of the way.
You Handle Hauling; We'll Handle the Rest
For haulers looking to keep focus on hauling, CRA's full maintenance compactor and baler rental programs offer an ideal solution for your customers. Our seasoned service professionals deliver exceptional 24/7 customer service to meet our service promise and exceed your and your customers' expectations. We provide a complimentary site visit to help you and your customers select the right compactor or baler to handle the specifications and waste handling requirements of your customers' facilities.
CRA Offers Solutions You Can Trust
When you need garbage compactors or balers for waste haulers, turn to the team at Compactor Rentals of America. Our experts will guide you in finding the right solution so you and your customers can enjoy an efficient, productive, and cost-effective waste management system. Learn more about our solutions for waste haulers when you contact us today.
We'll Help You Find the Right Solution
Contact us today to learn more about partnering with CRA.
"*" indicates required fields