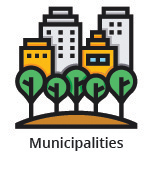 Community waste handling needs are as diverse as the people that comprise them. One thing all these companies have in common, though, is the need for dependable equipment and efficient processes. Sustainable, well-integrated municipal waste disposal plays a major role in keeping communities clean, safe, attractive, and welcoming for all who live there.
At Compactor Rentals of America, we help communities implement and manage effective waste handling solutions with our municipal trash compactor rental programs. Read on to see how our resources and expertise can help serve your community.
The Importance of Public Waste Management Solutions
Responsible municipal waste handling is an essential part of public health, environmental protection, and other cornerstones of a community. Municipalities need reliable equipment and efficient processes to keep neighborhoods clean, safe, and sustainable. In addition to choosing and installing the right balers and compactors, community leaders must also dedicate resources toward maintenance, repairs, and upgrades or replacements over time. With a lasting municipal waste disposal system, you can keep your community clean, safe, and beautiful for generations to come.
Find the Right Solution for Your Community
CRA has a long history of success partnering with municipalities and city governments to address their wide spectrum of municipal waste handling requirements. CRA's monthly full maintenance compactor and baler rental program services municipalities nationwide. Working together, we help you identify the right compactor and baler solutions – whether residential, commercial or industrial – for the communities you serve.
Your community's ideal municipal waste handling solution will depend on the size of your neighborhood, the types of buildings in your community, what kind of disposal routes you run, and more. When you work with CRA, we'll help you choose and implement the best municipal trash compactor rental for your community's specific needs.
CRA Delivers Quality, Safety, and Success
Protect and maintain your community by partnering with CRA to establish your municipal waste handling solution. We offer a comprehensive range of trash compactor rentals and other necessary equipment to keep your city clean, safe, and welcoming for everyone. With premium equipment, friendly service, and comprehensive service plans, CRA delivers efficiency, organization, and productivity to your waste management system. Contact the team at CRA today to discover how an optimized waste management solution can make all the difference in your community.

We'll Help You Find the Right Solution
Contact us today to learn more about partnering with CRA.
"*" indicates required fields