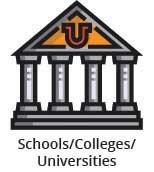 From providing food service to recycling, educational institutions manager multiple waste streams across a variety of facilities.
CRA's monthly full maintenance compactor or baler rental program is available nationwide. We offer a range of trash and recycling compactor and baler products, making it is simple, efficient and cost effective to maintain multiple products at multiple locations across your campus.

We'll Help You Find the Right Solution
Contact us today to learn more about partnering with CRA.
"*" indicates required fields