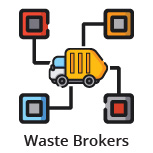 At CRA, we understand that providing seamless and comprehensive waste handling services to customers is a top priority for waste brokers.
We also know that maximizing efficiency, quality and cost effectiveness of every step in your waste management process is critical to the success of your business.
CRA is a trusted partner to waste brokers across the United States because we are committed to product and service excellence for you AND your customers.
Our seasoned service professionals deliver exceptional 24/7 customer service to meet our service promise and exceed your and your customers' expectations.

We provide a complimentary site visit to help you select the right compactor or baler to handle the specifications and waste handling requirements and streams of each of your customers' facilities.
We'll Help You Find the Right Solution
Contact us today to learn more about partnering with CRA.
"*" indicates required fields