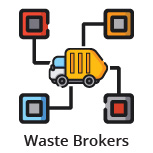 At CRA, we understand that providing seamless and comprehensive waste handling services to customers is a top priority for waste brokers.
We also know that maximizing efficiency, quality and cost effectiveness of every step in your waste management process is critical to the success of your business. That's why we dedicate ourselves to providing comprehensive, high-quality waste management solutions for clients. With superior equipment and experienced customer support, our waste compactors and baler rentals for waste brokers allow you to deliver the clean, safe, and productive results you promise clients. Read on to learn more about how Compactor Rentals of America helps waste brokers across the country reach greater heights with their business.
Helping Waste Brokers Serve Their Clients
Waste brokers help their clients establish smooth and reliable waste management processes that suit the specific needs of their business, property, workflow, and budget. To do this, waste brokers need dependable equipment like waste compactors and balers. With the right equipment solutions, waste brokers can help clients increase efficiency and cost-effectiveness throughout their waste management process.
Compactor Rentals of America partners provides high-performance waste compactors and baler rentals for waste brokers. Our recommended equipment solutions for waste brokers includes:
Horizontal balers
Vertical balers
Apartment compactors
Front or rear load compactors
Self-contained compactors
Stationary compactors
Pre-crushers
Dependable compactors and balers are the foundation of seamless waste management services. With reliable, cost-effective, high-quality solutions on hand, waste brokers can help their clients implement smooth and effective processes for their businesses.
Renting vs. Buying Compactors and Balers
As waste management intermediaries, waste brokers must balance a lot of different responsibilities. Partnering with a compactor and baler rental business like CRA makes some of those responsibilities easier.
When you choose CRA as your source for waste compactors and baler rentals for waste brokers, you choose high-performance equipment, comprehensive customer service, and an overall more cost-effective solution. By renting your waste management equipment, you gain access to expert management, maintenance, and support. From routine preventative maintenance tasks to flexible upgrades that support business growth, our service program gives you the support you need to make the most of your waste management solutions.
Partner With Compactor Rentals of America
CRA is a trusted partner to waste brokers across the United States because we are committed to product and service excellence for you AND your customers.
Our seasoned service professionals deliver exceptional 24/7 customer service to meet our service promise and exceed your and your customers' expectations.

We provide a complimentary site visit to help you select the right compactor or baler to handle the specifications and waste handling requirements and streams of each of your customers' facilities.
Curious to learn more about how we help waste brokers with waste compactor and baler rentals? Contact CRA today and talk to an expert about how we can support your business.
We'll Help You Find the Right Solution
Contact us today to learn more about partnering with CRA.
"*" indicates required fields