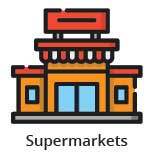 Supermarkets and grocery stores process a significant variety of waste and recycling materials.
Perishable foods of all types as well as many recyclable goods – from cardboard and glass to metal and plastic – line supermarket shelves.  Supermarkets have to consider multiple types of compactor and baler products to optimize cost savings, manage sanitation and meet stores' environmental goals and standards.
Our seasoned service professionals deliver exceptional 24/7 customer service to meet our service promise and exceed your expectations. We provide a complimentary site visit to help you select the right compactor or baler to handle the specifications and waste handling requirements of your facility.
We'll Help You Find the Right Solution
Contact us today to learn more about partnering with CRA.
"*" indicates required fields