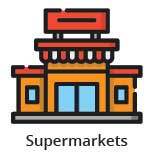 Supermarkets and grocery stores process a significant variety of waste and recycling materials.
Perishable foods of all types as well as many recyclable goods – from cardboard and glass to metal and plastic – line supermarket shelves.  Supermarkets have to consider multiple types of compactor and baler products to optimize cost savings, manage sanitation and meet stores' environmental goals and standards.
Finding the perfect waste management solution for your supermarket or grocery store doesn't have to be difficult, though. Compactor Rentals of America will work with you to find the equipment, layout, and solutions you need to keep your store clean, efficient, and cost-effective. Learn more about our compactor and baler solutions, the perks of renting equipment, and how CRA can help enhance waste handling for supermarkets and grocery stores.
A Waste Management Solution To Suit Your Unique Needs
Supermarkets, grocery stores, and similar businesses are in the unique position of stocking and working with an incredible variety of goods and materials. Grocery store shelves feature dry goods, fresh produce, liquids, and so much more. Products come in a vast range of both recyclable and non-recyclable materials, including glass, cardboard, paper, and plastic. In the backroom, stores deal with different forms of waste (such as food, food packaging, and secondary packaging) and palletizing materials (such as cardboard cases and plastic stretch wrap).
Handling this waste in a clean and efficient way is crucial to running a safe and sanitary store. Renting supermarket compactors and recycling balers as part of a reliable waste management solution helps keep your backroom clear, creates a safer working environment, and improves the sight of your property. Supermarket compactors also offer a secure, sealed storage solution for any wet waste; this, in turn, deters pests that might get into ordinary dumpsters.
The Benefits of Renting Your Compactor Solution
At Compactor Rentals of America, we know that better waste management isn't at the top of your to-do list. That's why our services and expertise make it easy for you to choose and implement a supermarket waste handling solution that meets your specific needs.
Renting supermarket balers and compactors is an efficient and cost-effective option for your waste-handling solution. Our rental program offers lower upfront costs and expert, ongoing maintenance plans so that you can benefit from expert waste management equipment without draining your time or money.
Find the Perfect Solution at Compactor Rentals of America
Our seasoned service professionals deliver exceptional 24/7 customer service to meet our service promise and exceed your expectations. We provide a complimentary site visit to help you select the right compactor or baler to handle the specifications and waste handling requirements of your facility. Contact CRA today, and let us handle your supermarket compactor needs so that you can focus on the more important aspects of running your store.
We'll Help You Find the Right Solution
Contact us today to learn more about partnering with CRA.
"*" indicates required fields