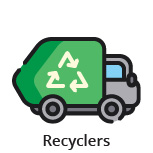 A global imperative, recycling centers and facilities are vital players in the waste management industry.
Recycling centers manage a significant volume of dry recyclable waste—such as cardboard, paper, and plastic—every single day. With so much material moving through your facility, you need an efficient and organized waste management solution to save space and stay on top of your waste handling needs. A recycling baler rental is the key to managing recycling center waste efficiently and effectively.
The Best Waste Handling Solution for Recyclers
Recycling centers manage a large amount of recyclable waste, which means they need a high-volume solution that can meet their waste handling needs. An efficient recycling center baler can keep up with the volume of dry waste that moves through your facility, which prevents clutter, backed-up workflows, and other organizational issues.
Choosing the right equipment is the key to successful recycling center waste management. At Compactor Rentals of America, we often recommend horizontal or vertical balers for our recycling center clients. Both horizontal and vertical commercial balers can manage high volumes of recyclable waste with ease.
Horizontal recycling center balers are an efficient and consistent solution for facilities that produce a significant amount of dry waste. Large feed openings, consistent bale sizes, and other features make hauling and storing recyclable waste a simple, straightforward process. With a horizontal baler, you can manage your large volumes of dry waste while keeping your peace of mind.
Vertical balers are an efficient solution for recycling centers that don't take up the floorspace of a bigger solution such as horizontal balers. With a smaller footprint, vertical balers handle a significant amount of waste while preserving precious space in your recycling facility.
The Benefits of Renting Your Recycling Center Baler
Expert recycling center waste management takes a lot of time and energy. Fortunately, CRA is here to provide reliable guidance and service for you and your facility. Our recycling baler rental program takes the responsibility of ownership off your plate. Rent your recycling center baler through us at a lower upfront cost, and we'll take care of routine maintenance, repairs, and even equipment upgrades to help your waste handling solution scale with your business growth.
Why Choose CRA?
Our extensive selection of recycling and waste compactors and balers as well as full maintenance rental program make us a trusted partner to recycling facilities. Exceptional 24/7 customer service nationwide and a complimentary site visit are important to ensuring eco-friendly solutions that address multiple waste streams. Visit CRA today to learn more about waste management for recycling centers and see how our team can help enhance your facility.
We'll Help You Find the Right Solution
Contact us today to learn more about partnering with CRA.
"*" indicates required fields