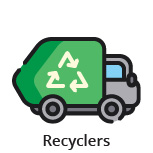 A global imperative, recycling centers and facilities are vital players in the waste management industry.
Our extensive selection of recycling and waste compactors and balers as well as full maintenance rental program make us a trusted partner to recycling facilities. Exceptional 24/7 customer service nationwide and a complimentary site visit are important to ensuring eco-friendly solutions that address multiple waste streams.
We'll Help You Find the Right Solution
Contact us today to learn more about partnering with CRA.
"*" indicates required fields