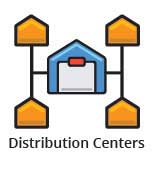 High volume. Efficiency prized as a key attribute of success. A wide range of materials. 24/7 operations.
Distribution Centers excel when all parts of the process are working together, which is why so many Distribution Centers turn to CRA for their industrial and commercial compactor needs. Our seasoned service experts and extensive product offerings free Distribution Centers to focus on efficiency and customer service. Exceptional 24/7 customer service nationwide and a complimentary site visit ensure your waste handling needs are covered – every day, all day.
We'll Help You Find the Right Solution
Contact us today to learn more about partnering with CRA.
"*" indicates required fields