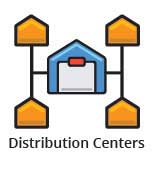 Industrial Compactor for Distribution Centers
High volume. Efficiency prized as a key attribute of success. A wide range of materials. 24/7 operations.
Distribution Centers excel when all parts of the process are working together, which is why so many Distribution Centers turn to CRA for their industrial and commercial compactor needs. Our seasoned service experts and extensive product offerings free Distribution Centers to focus on efficiency and customer service. Exceptional 24/7 customer service nationwide and a complimentary site visit ensure your waste handling needs are covered – every day, all day.
Read on to discover how we help distribution centers implement highly optimized waste-handling solutions through industrial compactors and other high-quality rentals.
Handling Your Specific Needs
From products to packaging materials, Distribution Centers handle an immense volume of waste. As a result, you need equipment that can handle waste safely and effectively. High-volume compactors and balers keep your distribution center clean, organized, and efficient.
Moreover, an optimized waste-handling system makes efficient use of your property so that you can devote more floorspace to robust inventory systems, automated equipment, and other solutions that enhance your business.
Waste Management Equipment Made Easy
Distribution centers expertly handle a high volume of materials, but that doesn't mean you have the time or resources to tackle the corresponding high volume of waste. Fortunately, Compactor Rentals of America is here to make waste management easy.
Start by choosing the perfect equipment for your specific needs by working closely with our expert team. During a complimentary site visit, we'll assess your property and help you find the right solution for your facility. Recommended equipment solutions for Distribution Centers include stationary compactors, pre-crushers, horizontal balers, and vertical balers.
Once you're renting our equipment, our team will continue to support you with comprehensive customer service, routine maintenance for distribution compactors, and upgrade options to scale with your business as you grow.
With industrial compactor rentals, 24-7 customer support, and ongoing maintenance and service programs, we cover all the responsibilities of waste handling so that you can focus on the more important aspects of your facility.
Get Started With CRA Today
Find effective, high-performing compactor equipment rentals for logistics companies when you work with the team at Compactor Rentals of America. Visit us today to optimize your waste management system and bring better organization, safety, and efficiency to your Distribution Center.
We'll Help You Find the Right Solution
Contact us today to learn more about partnering with CRA.
"*" indicates required fields